Countertop Care
Countertop Care
Congratulations! You did it – you made the right choice. By choosing natural stone or premium tile you made an excellent investment.
You know that your new stone or tile will give you years of functionality, but what you may not know is that in order to retain its beauty, some simple, yet important maintenance is needed.
An Ounce of Prevention - Protective Sealers
The best way to prevent stains on stone is to treat it with a Miracle Marble "3-in-1" Professional protective sealer. Natural stone can be very porous.
"3-in-1" product fill in natural pores and repel spills on the surface, giving you time to wipe them away before they have a chance to penetrate your stone.
Step Away from the Household Cleaner
General cleaners not specifically formulated for natural stone or tile is never recommended. These can breakdown the sealer, thereby removing its protective properties and making the stone and tile grout susceptible to stains.
Worse yet, many cleaning products, including those that contain lemon, vinegar, bleach or ammonia can etch away the polish, discolour the surface, or even scratch your stone. Avoid using these products. In short, if it isn't a Miracle Marble "3-in-1", it isn't good enough for your stone or tile.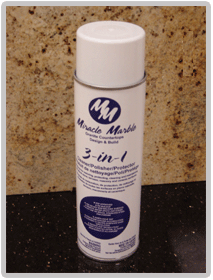 Countertop Maintenance
Natural stone is the most durable and functional hard surface available but like carpet, wood and even synthetic surfaces, proper care is required to maintain its maximum beauty.
Keep your stone and tile looking great by following some simple precautions. The following section covers some of the most common care regiments.
Use Miracle Marble "3-in-1" Professional Cleaner / Polisher / Protector to protect and clean your stone and tile.
Clean up spills with absorbent cloth immediately to minimize damage to your stone and tile.
Never use cleaners that contain acids (bowl cleaners, tile & tab cleaners, etc.)
Never clean with bleach or ammonia.
Never use abrasive cleaners.
Use trivets or mats under hot dishes and cookware.
Place a small rug or a mat at entry way to trap dirt and sand from normal foot traffic.
Allow mud to dry before attempting to remove from stone (wet mud will smear and make the danger of staining greater).
Testimonials
Testimonials
Jocelyne, Whitby 19/08/13
"I wanted to let you know how please I am with the granite countertop. Your installers were very pleasant and very good at their job. I will not hesitate to recommend your company."
Jocelyne, Whitby 20/08/13
"I wanted to let you know how please I am with the granite countertop. Your installers were very pleasant and very good at their job. I will not hesitate to recommend your company."
Jocelyne, Whitby 21/08/13
"I wanted to let you know how please I am with the granite countertop. Your installers were very pleasant and very good at their job. I will not hesitate to recommend your company."